---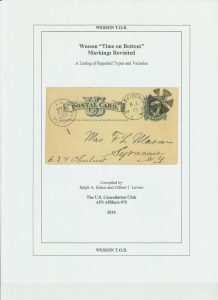 Wesson "Time-on-Bottom" Markings Revisited
Compiled by Ralph A. Edson and Gilbert L. Levere
Update of 1990 La Posta monograph. 190 pages. See page 70 of November 2010 NEWS for announcement. $25.00 members, $35.00 non-members, post paid to U.S. addresses.


Add to Cart (Members) Add to Cart (Non-Members)
---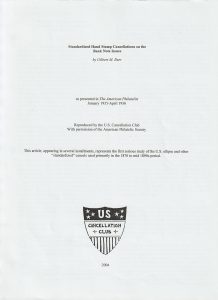 Standardized Hand Stamp Cancellations on the Bank Note Issues
By Gilbert M. Burr
This article, appearing in several installments, represents the first serious study of the U.S. ellipse and other "standardized" cancels used primarily in the 1876 to mid-1890s period. 57 pages. $18.00 members, $23.00 non-members, post paid to U.S. addresses.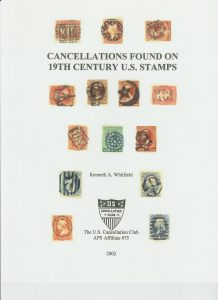 Cancellations Found on 19th Century U.S. Stamps
By Kenneth A. Whitfield
With more than 6,000 tracings, this book is an invaluable supplement to the Skinner-Eno and Cole volumes. Includes the latest Whitfield update. $50.00 members, $81.00 non-members, postpaid to U.S. addresses. For Whitfield update pages only, $8.00 post paid.


Add to Cart (Book, Members) Add to Cart (Book, Non-Members)
Add to Cart (Update Pages)
---