Another Postmaster's Initials Cancel: 'AHB' in a Circle from Lostant, IL. 1898
by Joe H Crosby
In my seemingly never-ending search for the true meaning of multiple-letter 19th Century cancellations, I am finding that after not getting any answers from Postmaster Finder on line, local historical societies, archives and libraries are the next best source of information about the names of local postmasters.
I recently acquired the cover illustrated in Figure 1 which has a neat bold strike in black of the letters "AHB" in an 18 mm circle on a two cent Trans-Mississippi Commemorative mailed at Lostant, Ill. Nov. 30, 1898. The Postmaster Finder for that post office only starts in 1935 with the notice that "Research on this Post Office Has Not Yet Been Completed."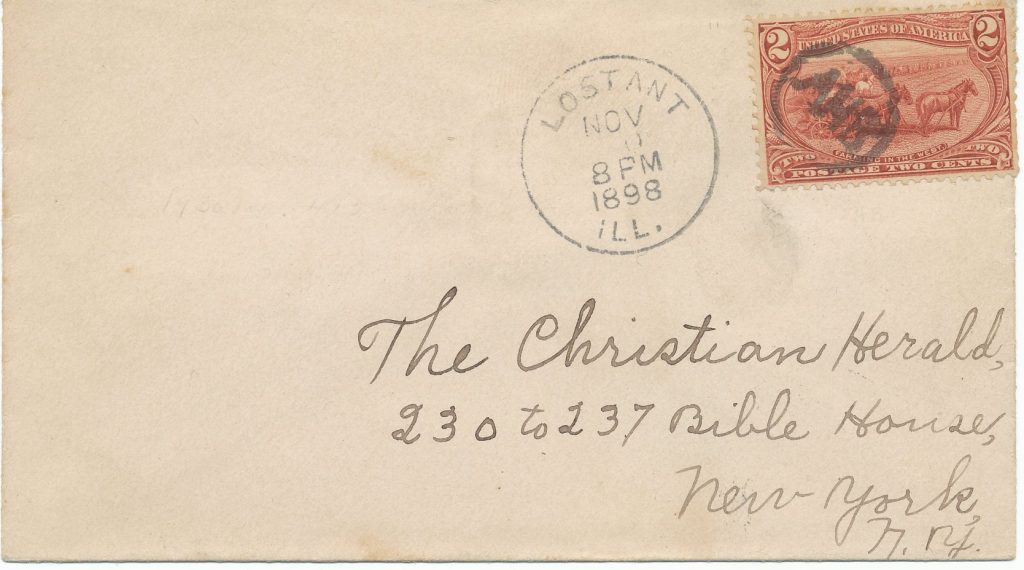 figure 1
Not being known for my patience, I contacted the Streatorland Historical Museum in nearby Streator, there being no Lostant Historical Society listed. They informed me that a postmaster in the 1890's in Lostant with the initials "AHB" was Alfred H. Bell. Voila ! !
Now what else can we learn about our new friend Alfred? A Google search for that name in Lostant, IL produced a nice long listing in the Biographical and Genealogical Record of La Salle County, lllinois1. The first paragraph reads:
"Alfred H. Bell, the genial and popular postmaster of Lostant, La Salle County, is one of the progressive merchants of this thriving town. He has occupied a number of local offices of trust and honor, to the entire satisfaction of everyone, and enjoys an enviable reputation for square dealing and public spirit."
After giving his family history and his moving to Lostant in 1894, it further reported:
"In 1897 Mr. Bell was appointed the postmaster of Lostant, and entered upon his duties in December of that year. He takes great pains to meet the wishes of his fellow citizens, and is highly commended for his promptness and general efficiency."
The Official Register shows A.H. Bell's annual compensation up to July 1, 1899 was $652.472 indicating that his post office was rather busy for a town the size of Lostant3.
Now we need reports of other dates of use for this cancel to determine its period of use. It is quite likely that this marking is really what Cole listed as ML 100, illustrated as "ANB" rather than "AHB", and known on 1890 Issues4.
Alfred H. Bell is still listed as Postmaster at Lostant as of July 1,1911. By then his brother George was his Assistant, with two Clerks and two Rural Free Delivery Carriers5. ■
References
Published by Lewis Publishing Company (no date)
Official Register of the United States, Vol. 2, July 1, 1899, (GPO, Washington).
U.S. Census 1890, Lostant Village, Ill. pop. 378; U.S. Census 1900, Lostant Village, pop. 480—from Census Bulletin Number
21, December 18, 1900, p. 13.
Cole, James B. Cancellations and Killers ofthe Banknote Era, 1870-1894, U.S. Philatelic Classics Society, Inc., 1995.
Official Register ofthe United States, Vol 2, July 1, 1911 (GPO, Washington)
Editors Note:
Alfred Henry Bell was born on November 13, 1857 in central Illinois. According to the register of Appointments of U.S. Postmasters 1832-1971, Bell was appointed Lostant's postmaster on November 11, 1897 and held that office until October 17, 1914.
In 1894, the town opened its first bank, the Farmer's State Bank at 206 S. Main Street. In 1912, the bank expanded into the other half of the property then operated as the post office, and remodelled that building (which still stands today). So, for most of the time Bell was postmaster, the post office was at that address.
In the 1900 Federal Census, despite being the official postmaster, Bell gave his profession as grain buyer. At that time, he was living with his widowed mother and his younger siblings George and Cora, who gave their occupations as post office clerks.
Bell helped establish the Masonic Lodge in Lostant in 1903 and he served as Worshipful Master there in 1906 and 1907.
In 1905, he married Estella, the town music teacher and daughter of the proprietor of A.L. Hillman Groceries which was situated on the corner of Marshall and Third Streets (building since demolished). They had only one child, Amanda, born in January 1909.
In the 1910 Federal Census, Bell gives his occupation as postmaster. His brother George resides next door (and does so for the rest of Alfred's life) and is an attorney.
After the postmaster's position was reassigned, Bell tried his hand at variously selling real estate and insurance in Lostant from his brother's law office two doors north of the bank.
Alfred H Bell passed away in nearby Streator on May 10, 1945. He is buried with his wife at Hope Cemetery, Lostant.
---